In an increasingly digital world, marketing trends are continuously evolving, particularly within law firms. What worked a year ago might not be as effective today. Staying updated with the latest trends in law firm marketing is pivotal in maintaining a competitive edge.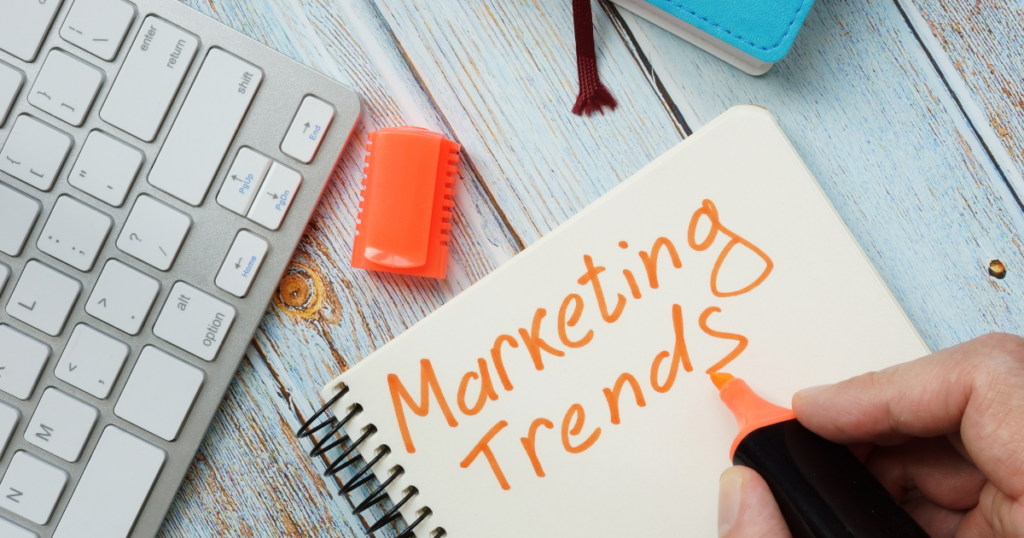 Understanding Law Firm Marketing
Law firm marketing refers to the strategies and activities aimed at attracting new clients, retaining existing ones, and promoting legal services. It comprises traditional methods like TV ads and print media, and digital methods like social media marketing, SEO, and content marketing.
The Importance of Digital Marketing in Law Firms
Digital marketing for law firms is growing in significance due to the increasing number of people seeking legal help online. A robust online presence boosts visibility, enhances reputation, and drives more traffic to your law firm's website.
Increased Use of SEO
Search Engine Optimisation (SEO) may not be a new concept, but it continues to hold its prominence in law firm marketing. This technique involves optimising your law firm's website to achieve a high rank in search engine results, thereby improving your visibility and making it easier for potential clients to discover you. This not only increases your web traffic but also promotes organic growth, which is a boon for law firms looking to expand their client base.
By incorporating SEO-friendly keywords into your website content, you're essentially speaking the search engine's language and increasing your chances of being found by users searching for legal services that match your offerings. It's worth noting that while SEO is an ongoing process requiring regular updating and refining, the long-term benefits it brings in terms of visibility and engagement make it a trend that is here to stay.
Social Media Engagement
The role of social media in law firm marketing is evolving rapidly. It has become a platform not just for promotion, but also for engagement, client acquisition, and establishing authority in the legal field.
Social media channels like LinkedIn, Twitter, Facebook and Instagram are ideal for law firms to share their insights, legal updates, and firm news. They provide an avenue to not only share information but also to engage with audiences in a more informal and personal way, fostering a sense of community and trust.
Content Marketing
Content marketing continues to make waves in the world of law firm marketing. It refers to the creation and sharing of informative and engaging content, such as blog posts, articles, infographics, and e-books, aimed at providing value to your audience. This strategy helps establish your firm as a knowledgeable authority in the legal field, building trust with prospective clients.
One key aspect of content marketing is producing content that answers the questions your potential clients are asking. When people have a legal problem, they often turn to search engines for answers. By providing clear, easy-to-understand answers to these questions, you can direct more traffic to your website and position your firm as a helpful resource.
Personal Branding for Lawyers
The concept of personal branding for lawyers is swiftly gaining traction in law firm marketing. While law firms traditionally focused on the overall firm's brand, the tide is shifting towards individual lawyers' branding.
Personal branding is about creating a distinct and memorable identity. For lawyers, it's about spotlighting their unique skills, expertise, personality, and values that set them apart from their peers. This humanises the firm and makes the lawyers more relatable and trustworthy to prospective clients.
Utilising Video Marketing
Video marketing is making its mark in law firm marketing, and its influence is only set to grow. With consumers spending more time consuming video content, it is becoming an indispensable tool for law firms to engage their audience, showcase their expertise, and explain complex legal topics in an easily digestible format.
The beauty of video content is its versatility. Whether it's informational videos explaining common legal issues, testimonial videos from satisfied clients, or introductions to your firm's attorneys, the options are endless. Not only does this make your firm more accessible, but it also fosters a deeper connection with your audience.
The Rise of Podcasts
Podcasting has exploded onto the scene, carving out a significant niche in law firm marketing. Podcasts offer an engaging, convenient, and personal way for law firms to reach their target audience, share insights, and build rapport with potential clients.
Lawyers can use podcasts to delve deep into legal topics, discuss recent changes in law, share case studies, or even interview industry experts. This provides value to listeners and establishes the firm's reputation as a thought leader in the industry.
Law Firm Webinars
Webinars have emerged as a powerful tool in law firm marketing, especially with the increased digitalisation of services following the global pandemic. They offer an interactive platform where lawyers can share their expertise, address complex legal issues, and engage with their audience in real-time.
Webinars can be used to cover a wide range of topics, from explaining legal updates and discussing landmark cases to providing guidance on common legal issues. By providing actionable, valuable information, law firms can establish themselves as trusted experts in their field.
Paid Advertising (PPC)
While organic reach through SEO and content marketing remains crucial, paid advertising, particularly Pay-Per-Click (PPC) advertising, is a rising trend in law firm marketing. This approach allows law firms to reach a larger, targeted audience, effectively enhancing their online visibility and attracting potential clients.
PPC advertising operates on a model where the advertiser pays a fee each time one of their online ads is clicked. This method essentially allows law firms to buy visits to their site, complementing their organic reach. Search engines like Google and Bing offer PPC ad platforms, with Google Ads being the most popular.
Online Reviews and Testimonials
In the era of digital marketing, online reviews and testimonials have become an influential factor in a client's decision-making process. Prospective clients often turn to reviews to gauge a law firm's credibility and the quality of its services before engaging.
Reviews and testimonials provide real-life experiences and insights about your law firm from the clients' perspective. Positive reviews can help build trust and credibility, attract new clients, and enhance your online reputation.
Mobile-Friendly Websites
As more people use smartphones to access the internet, having a mobile-friendly website has become a necessity for law firms. It is a trend that is transforming the way law firms approach their online presence.
A mobile-friendly website is one that is designed to display properly on smaller screens, such as smartphones and tablets. This includes elements like readable text without requiring zoom, adequate space for tap targets, and no horizontal scrolling.
How Solicitor Digital Can Help
At Solicitor Digital, we specialise in cutting-edge digital marketing strategies tailored to law firms. We are situated at Unit 2 Pier Road, Kinsale Co. Cork, Ireland, and we would be delighted to discuss how we can help your law firm grow.
Keeping abreast of the latest trends in law firm marketing is crucial in today's digital era. Remember, the goal isn't just to follow trends but to implement strategies that resonate with your target audience and align with your firm's objectives. It's about being where your clients are and offering them the solutions they need.
Visit us at Solicitor Digital or contact us to learn how we can help your law firm stay ahead in the digital space.
Frequently Asked Questions
Why is digital marketing important for law firms?
Digital marketing boosts visibility, enhances reputation, and attracts more clients to your law firm.
How does SEO benefit law firms?
SEO makes your law firm easily discoverable by potential clients searching for legal services online.
What role does social media play in law firm marketing?
Social media enables law firms to engage with their audience, build trust, and foster a strong online community.
Why are online reviews and testimonials essential?
They build trust and credibility, influencing the decision-making process of potential clients.
How can Solicitor Digital assist my law firm?
Solicitor Digital offers tailored digital marketing strategies to help your law firm attract and retain clients.