Website design for solicitors is not just about creating a visually appealing website. It's about crafting a digital platform that captures the ethos of your legal practice, makes a great first impression, and ultimately drives client engagement. So, what exactly is website design for solicitors? Let's find out.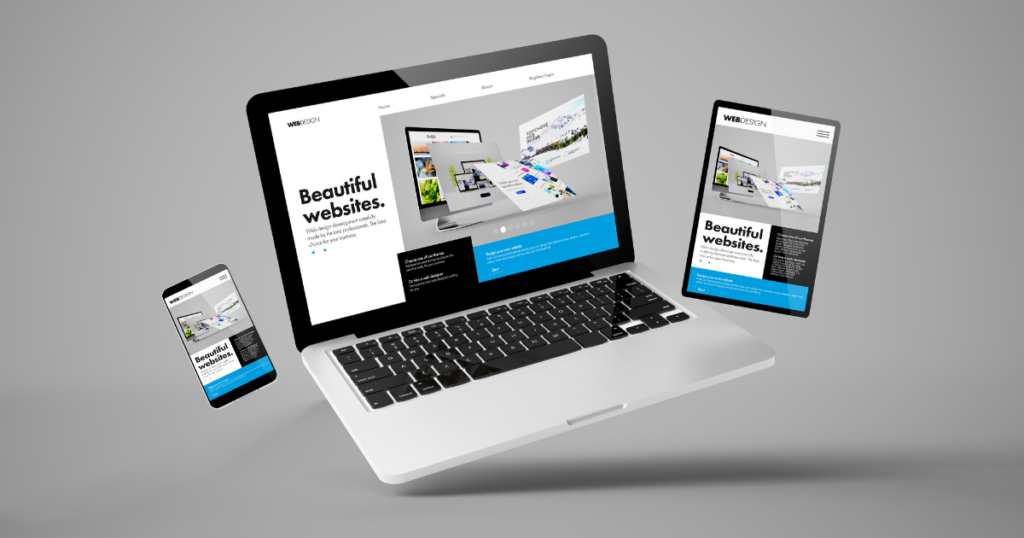 Why is Website Design Important for Solicitors?
Your website often serves as the first point of contact between you and your potential clients. As a solicitor, your website is your digital office, where visitors should get a sense of trust and professionalism.
Features of a Well-designed Solicitors' Website
Professional Appearance
A well-designed solicitor's website exudes professionalism. This is not just about sophisticated aesthetics, but also about clarity in presenting information and maintaining brand consistency. High-quality images, a pleasing colour scheme that aligns with your brand, and a clean, uncluttered layout can all contribute to a professional appearance. It's all about providing an accurate reflection of the high-quality services you provide.
User-friendly Navigation
Intuitive navigation is a key feature of any well-designed website. Site visitors should be able to effortlessly find the information they're looking for, be it your services, contact details, or legal advice. A logical site structure with clearly labelled navigation menus can greatly enhance the user experience.
Mobile Responsiveness
In an era where a significant percentage of web traffic comes from mobile devices, your website must be mobile-responsive. This means your website should automatically adjust its layout and content to fit the screen size of the device it's viewed on. If your site isn't mobile-friendly, you risk losing potential clients and damaging your search engine rankings.
Search Engine Optimisation (SEO)
Search engine optimisation is a crucial feature of a well-designed solicitors' website. Implementing SEO best practices can help your website rank higher on search engine results pages (SERPs), increasing your visibility and making it easier for potential clients to find your services. This includes using relevant keywords, having fast load times, and ensuring mobile-friendliness.
Informative and Relevant Content
Your website should be a resource of valuable information. This includes details about your services, your areas of specialisation, and insightful legal content that can help visitors understand their legal situations. High-quality, informative content can position you as an authority in your field and build trust with potential clients.
Clear Calls to Action (CTAs)
Every page on your website should serve a purpose and guide visitors towards a specific action, such as contacting your firm, booking a consultation, or subscribing to your newsletter. Clear, compelling CTAs can guide your visitors along the conversion path, turning them from casual browsers into potential clients.
Client Testimonials
Including client testimonials on your website can lend credibility to your services and provide social proof, which can greatly influence a potential client's decision to engage your services. Showcasing positive experiences from previous clients can build trust with prospective clients, showing them the value you can bring to their legal matters.
Website Design Trends for Solicitors
From minimalistic designs to the incorporation of AI chatbots, the trends in website design for solicitors are continually evolving. Keeping up with these trends can help you stay competitive and appeal to a broader audience.
The Role of User Experience (UX) in Website Design
How UX Impacts Client Retention
UX is about how a user interacts with your site. A positive UX can significantly contribute to client retention, as users are more likely to return to a site that is user-friendly and satisfies their needs.
Importance of UX in SEO
Search engines like Google have started to place a higher emphasis on UX. Websites with a good UX often have lower bounce rates and higher engagement rates, which can improve your SEO ranking.
How to Improve the Design of Your Solicitor's Website
Opt for the Right Platform
Choosing the correct platform for your website is crucial. The platform should suit your specific needs and be scalable for future growth. WordPress, Joomla, and Drupal are some examples of platforms that offer considerable flexibility, user-friendly interfaces, and excellent SEO capabilities.
Improve Navigation
Ensure your website has a logical flow and intuitive navigation. Visitors should be able to effortlessly find the information they're looking for. A site map can be an invaluable tool for this, as can dropdown menus that clearly show the content available on your site.
Embrace Mobile Responsiveness
Ensure your website is mobile-friendly. This doesn't just mean shrinking your site to fit on a smaller screen; it's about reworking menus, altering text sizes, and rearranging images to provide the best possible experience for mobile users.
Integrate SEO Strategies
Implementing SEO best practices is essential. This can involve using relevant keywords throughout your site, improving your site's loading speed, ensuring mobile-friendliness, and regularly updating your site with high-quality content.
Utilise Visual Content
Adding relevant images and videos can make your website more engaging and memorable. This could be in the form of infographics, staff photos, explainer videos about your services, or a virtual tour of your office.
Incorporate Client Testimonials
Showcasing positive feedback from previous clients can build trust and credibility. Create a dedicated section for testimonials on your site and update it regularly.
Implement Clear Calls to Action (CTAs)
CTAs guide your visitors along the path to becoming clients. Every page on your site should have a clear purpose and corresponding CTA, whether that's getting in touch, booking a consultation, or downloading an informative eBook.
Use Readable and Clear Fonts
Ensure that your website text is easily readable. Avoid complex fonts and keep your text size large enough for all visitors to read comfortably.
Keep Your Website Updated
An outdated website can give visitors the impression that your practice isn't current. Regularly update your website with new blog posts, legal news, and updates about your firm to keep it fresh and relevant.
The Impact of Good Website Design on Business Growth
A well-designed website can lead to increased visibility, higher client engagement, and ultimately, business growth. It's an investment that can deliver substantial returns in the long run.
In a highly competitive field like law, a well-designed website can make all the difference. It's not just about aesthetics but also functionality, usability, and client conversion. If you're looking to improve your digital presence, the team at Solicitor Digital can help. We invite you to visit our office at Unit 2 Pier Road Kinsale Co. Cork Ireland to discuss your website design needs.
Frequently Asked Questions (FAQs)
What is website design for solicitors?
Website design for solicitors involves creating a professional and user-friendly online platform that represents your law firm's brand, informs visitors about your services, and helps convert them into clients.
Why is mobile responsiveness important for a solicitors' website?
With most people accessing the internet via mobile devices, having a mobile-responsive website ensures your site looks good and functions well on all screen sizes, improving the user experience.
What is the role of SEO in website design?
SEO plays a vital role in improving your website's visibility on search engine results, making it easier for potential clients to find your services.
How can I improve the UX of my website?
Improving UX can involve various strategies, from ensuring easy navigation and quick load times to providing valuable content and a mobile-friendly design.
What are the benefits of a well-designed website for solicitors?
A well-designed website can enhance your professional image, attract and retain clients, and contribute to your business growth.