Simply put, we help solicitors;
sign more cases
sign better cases
make more money
grow their law firms
increase their brand reputation
We do this through our proven & effective and ethical search engine optimisation services and digital marketing services.
3 out of 4 People Turn Online While Looking for a Solicitor
Chances are that most of your previous clients found you from a referral or personal recommendation. But did you know that 3 out of 4 people that need to hire a solicitor turn online at some point in their journey?
Your potential clients are doing their own research and "Google-ing" you before they ever call or email you.
Not only that, but potential clients who don't know about you are turning to Google to find a solicitor. Are you showing up where your potential clients are already looking for your services? If not, you're losing out on new business.
At Solicitor Digital we work with growth minded solicitors to help them get more clients through our SEO & Digital Marketing Services.
Is that you? If so contact us today to learn how we can help you have the most visibility in your market.
[Below you will find an example of Google Local results powered by Google Business Profiles]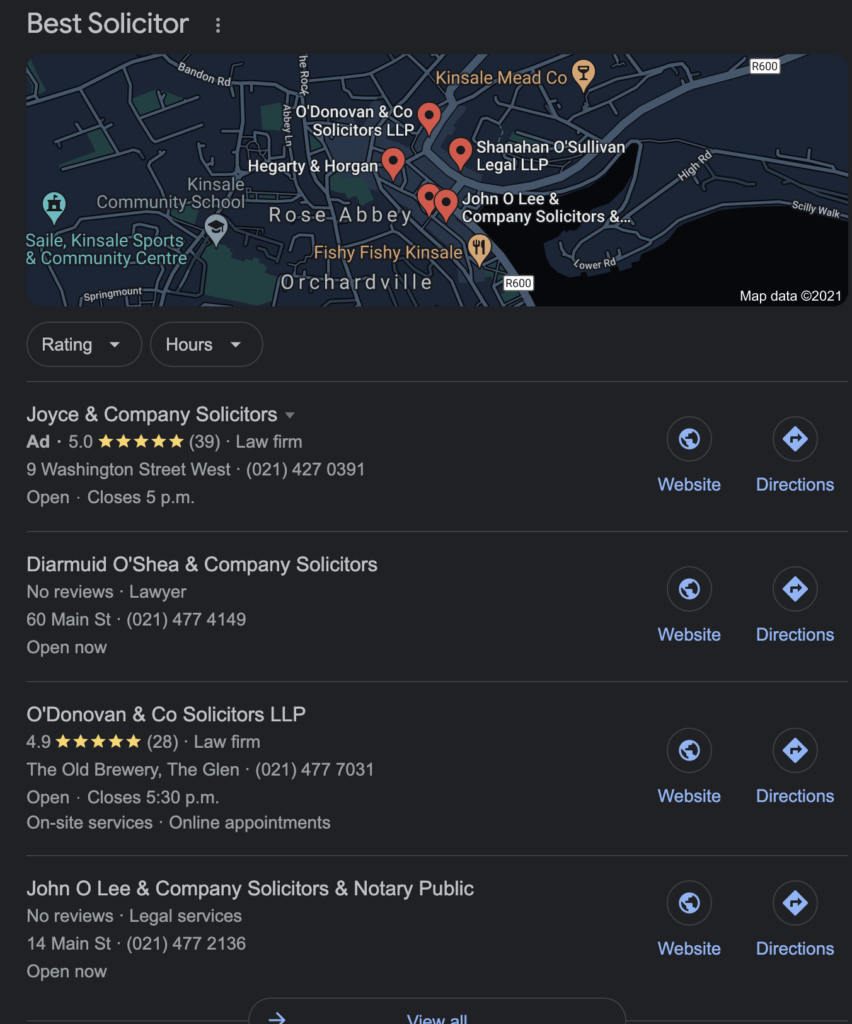 What is Law Firm Search Engine Optimisation?
Simply put, effective Law Firm Search Engine Optimisation is ranking at the top of Google for keywords that will drive more business to your law firm.
For example, everyday many Irish people search for a solicitor on Google. If you're a personal claim solicitor they may type keywords (or phrases) like this into Google:
Car accident solicitor
I was injured in a car accident, do I need a solicitor
Personal injury solicitor, County Cork
Dublin personal injury claim solicitor
The point is that there are a lot of different ways a potential client might search for your firm. But using our tools and data we can focus our efforts on the keywords that will bring the most visitors to your website and thus more clients.
Effective solicitor SEO is showing up at the top everytime someone searches for these phrases and optimising your website to get the calls and clicks.
How Can You Rank At The Top?
If you come to us with the appropriate budget the best option is to rank everywhere you can. But we understand many law firms don't have large marketing budgets and we specialize in both free and paid clicks.
Google has 4 different areas where you can rank. These are typically:
Google Ads. This is a pay per click service where you pay each time someone clicks on your link to your website. These results typically show up at the top of the search results page. They are marked with the word "ad" and because of this they get less clicks than Google Business results (local/maps results). This is a great way to quickly get in front of your target audience but it takes time to build an effective campaign and remember you will pay each time someone clicks on your ad.

Local Services Ads. This is a relatively new product from Google that typically shows up underneath Google Ads. These are sold on a pay per lead model. With this service you will only paid for qualified leads.

Google Business Profile results. Google business profile results are the 2-4 local business listings that show up when you search for a keyword. For example, when I search "Personal Injury Solicitor" I see results like shown below. Many clicks go here and when you rank here the clicks are free. So if you rank for keywords here, you will get a lot of new business in your target market (city).

Google Organic Results. These are below business profile results and are the blue links with black text you're probably used to seeing. Since Google keeps pushing organic results down the page, we are finding that less clicks go here.
The methods we use for our clients help them rank at the top in all of these areas for competitive keywords that will drive actual business to your law firm.