In an industry where trust and credibility are paramount, managing your reputation as a solicitor is not just important—it's crucial. Reputation management goes far beyond just resolving client complaints; it's a comprehensive strategy aimed at building trust, creating value, and establishing a strong online presence.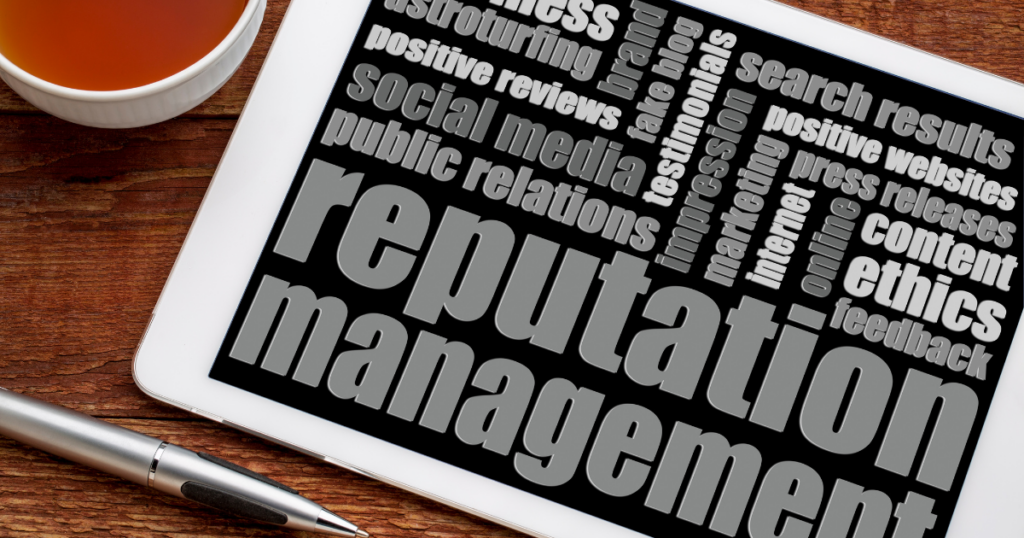 The Importance of Reputation for Solicitors
As a solicitor, your reputation serves as a vital cog in the intricate machinery of your profession. It's a reflection of your values, competencies, and dedication toward your clients and the legal sector as a whole. Let's delve deeper into why reputation holds such profound significance for solicitors.
Cultivating Trust
Trust is the bedrock of a solicitor-client relationship. Clients entrust solicitors with delicate personal information and challenging situations, placing them in a highly vulnerable position. Hence, the trust they vest in their solicitors needs to be firmly grounded.
A sterling reputation exudes assurance, letting clients know they're in capable and reliable hands. It conveys your commitment to confidentiality, ethics, and effective legal services. Thus, a positive reputation can foster an environment of trust, catalysing client-solicitor relationships that are both enduring and fruitful.
Attracting High-Quality Clients
The legal arena is competitive, with numerous solicitors vying for the attention of potential clients. Here, your reputation can serve as your most persuasive advocate. A good reputation acts as a magnet for high-quality clients, who value expertise, reliability, and professionalism.
Clients usually do their due diligence before hiring a solicitor, and a well-regarded reputation can tip the scales in your favour. Whether it's word-of-mouth recommendations or positive online reviews, a solid reputation can effectively market your legal services to potential clients.
Encouraging Client Retention and Referrals
A strong reputation isn't just about attracting clients—it also plays a critical role in retaining them. Clients are more likely to continue using the services of a solicitor they trust and respect. Furthermore, satisfied clients are an invaluable source of referrals, driving more business your way.
Building Value
Your reputation impacts not just your relationships with clients, but also the overall value of your practice. It differentiates you from your competitors and positions you as an expert in your field. A strong reputation can thus increase the value of your services, allowing you to command a premium price.
Effective Reputation Management Strategies
Maintain a Strong Online Presence
In today's digital age, your online presence can make or break your reputation. A professional and user-friendly website is crucial. It should clearly showcase your services, areas of expertise, and include client testimonials. Make sure your website is regularly updated and provides easy ways for potential clients to get in touch.
Manage Client Reviews
Encourage your clients to leave reviews about their experiences. Positive reviews can significantly enhance your reputation. Equally important is addressing any negative feedback. Responding to such reviews professionally and constructively shows that you value client feedback and are committed to resolving any issues.
Leverage Social Media
Social media platforms are an excellent tool for reputation management. Regularly sharing relevant and engaging content can help you establish yourself as a thought leader in your field. Interact with your followers, respond to their comments, and foster open discussions.
Community Engagement
Being active in your community can improve your visibility and reputation. Participate in local events, sponsor local teams or initiatives, or offer pro bono services. This shows your commitment to your community and can significantly boost your reputation.
Network with Professionals
Networking with other professionals in your field can also enhance your reputation. Join professional associations, attend conferences, and engage in discussions. This can provide valuable opportunities for learning and collaboration.
Effective Communication
Communication is key in managing your reputation. Ensure you communicate clearly and promptly with clients, whether it's about case updates or addressing their concerns. Transparency and honesty in communication can foster trust and enhance your reputation.
Continual Learning and Improvement
The legal field is continually evolving, and staying updated with the latest developments is crucial. Attend workshops, and seminars, or undertake further study. This not only enhances your skills and knowledge but also shows your commitment to providing the best service to your clients, thus boosting your reputation.
Importance of SEO in Reputation Management
Search Engine Optimisation (SEO) plays a critical role in managing your online reputation. It aids in improving your website's visibility on search engines, driving more traffic to your site, and amplifying your online presence.
Managing your reputation as a solicitor is a continuous process. It requires proactive strategies aimed at building trust, creating value, and establishing a strong online presence. So, are you ready to take the next step? Contact Solicitor Digital today and let us help you manage your reputation effectively. And, don't forget, we're conveniently located at Unit 2 Pier Road Kinsale Co. Cork Ireland, so don't hesitate to pay us a visit!
Frequently Asked Questions
What is reputation management for solicitors?
Reputation management involves strategies to create and maintain a positive public perception of solicitors.
Why is a good reputation important for a solicitor?
A good reputation attracts high-quality clients, promotes loyalty, and drives business growth.
How can solicitors improve their online reputation?
Solicitors can improve their online reputation by having a professional website, engaging on social media, responding to customer reviews, and using SEO strategies.
How does community involvement impact a solicitor's reputation?
Community involvement enhances solicitors' visibility and shows their commitment to their community, thereby improving their reputation.
What role does SEO play in reputation management?
SEO improves a solicitor's online visibility, drives more traffic to their website, and thus helps in managing their online reputation.